Tag Archives:
products
IT's The best product you will every buy!!

http://www.spainc.ca/contact.php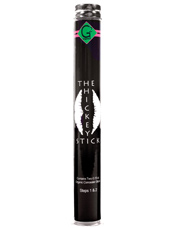 Hickey Stick

G2 Organics
|
Issue: Winter 2013/2014
Description:G2 Organics Hickey Stick is a new alternative to concealer that covers everything from scars and breakouts to hickeys. The product is made from organic, natural, and non-toxic ingredients like rosemary, zinc oxide, and Vitamin E. It is available in light and dark shades and each Hickey Stick is Reiki-charged for good energy. A portion of the proceeds go to cancer research.
Website: G2Organics.com
I created with my interns at Fordham University and Marie Lamari. Everybody laughed in my world thought it was just a throw away, cheeky kind of product. But it has stood the
test of time, and works great, people of all ages love it and use it. Its not just for "Hickeys" its for pimples, razor bumps and even bug bites bites. Its packaged so its easy to throw in your gym bag or pocketbook.
and sexy. I use it all the time, for what? Under eye As a BEAUTY Expert, I have used and know about so many cover ups, I wanted to create a product that everyone in the family can use. This product can be used by men, for , pimple, cover up and it also heals. Plus for women keeps my makeup on. With everything I have learned about the cosmetic industry and chemicals I swear this is the best product on the market!
Posted in

BEAUTY INSIDE AND OUT, fashion&trends, health&wellness, organics, product reviews, products i
Tagged

bug bites, cherie corso, cover stick, families, g2 organics, Hickey stick, moms, NYC, products, the hickey stick. Spa Inc
Comments Off

on The Hickey Stick, not only for LOVE bites! #Organic & Heals by G2 Organics
Blessings and sending you good energy!!! The Angels want to help you, put your ego to rest and listen.
The average person uses 10-12 beauty products before they leave their home every morning. Starting with shampoo, conditioner, moisturizer, deodorant, gel, makeup and even more lotions and potions to be groomed in order to feel good. This adds up to 500 chemicals daily one puts on their body that gets absorbed. Studies show that children are having puberty earlier, mens testosorin levels are down, and cancer on the rise. The movement is to be healthier, be green, to be good to the environment by using organic and natural beauty products. We are bombarded everyday with "noise" about how to look better, be healthier. Now is a time to rebuild and rethink what we are doing to reach a healthy balance.
Throughout history cosmetics have played a role in shaping peoples lives. One drop at a time we can help ourselves and the environment.
*Buy products made in the USA, no animal testing
*Shampoo less, rinse with water and use a little conditioner
*create your own facial, Cleopatra used honey, milk and botanicals oils.
*read the labels, if it has to many ingredients and chemicals take a pass
*allow your body to naturally detoxify, by letting the skin breath
G2 Organics is
in a chic, green, new way. A-Founder Cherie Corso, former model and Beauty expert has a mission is to educate and add sexiness and energy to products aim to to help one live healthier by promoting wellness through natural, and organic products. We believe that our products promote a wholesome way of life by obtaining from harmful toxins, and instead focusing on natural elements and awareness.
All of our products are Reiki charged with quartz crystals which is the belief of the healing power of stones. This is a Japanese technique that reduces stress and promotes healing and positive energy. Reiki means "life force energy" this technique dates back to many other other ancient cultures.
It is said that these stones helped the people achieve a greater sense of health of spirit, body and mind. They provide balance, peace, love, beauty, peacefulness, and emotional healing; sending good energy.
Fordham Universities interns for G2 Organics developed a organic cover stick for men and women, called The Hickey Stick. Its fun sexy and works, not just for hickies covers tattoos, and heals pimples and cuts with ingredients such as rosemary and zinc. Easy to carry and and fun to use.
A portion of all proceeds go to cancer research.
and all of our products are proudly made in the USA.
Posted in

BEAUTY INSIDE AND OUT, fashion&trends, health&wellness
Tagged

beauty, believe, cancer, chemicals, g2organics, products, soul, spiritual, spirituality, trends, trens
Comments Off

on 500 chemicals a Day to look GOOD?